SOAP MACHINES FOR
SOAP INDUSTRY since 1934

We are an Italian leading manufacturer of Saponification Plants, Drying Plants, Soap Finishing Lines and Soap Packaging Machines. We are on the market since 1934 when we first designed and manufactured soap stamping machines; our name "SAS" is an acronym of Soap Automatic Stampers.

Starting from the Eighties our business expanded to Soap Finishing Lines, Soap Plants and Soap Packaging Machines.
In the last decade we completed our presence in the soap packaging equipment with the acquisition of the technology of Guerze for Stretch and Pleat Soap Wrappers, the realization of the high-speed Paper/500 Soap Wrapper and the Savonpack family of Soap Bundlers
Thanks to the expertise in the soap production we could recently design and manufacture finishing lines for "toilet Rim-Blocks", saponification plants and finishing lines for 100% coconut soap, equipment for production of Syndet products including the Shampoo Bars which is a fast growing niche market.
OUR INSTALLATIONS IN THE WORLD
More than 70 installations in the world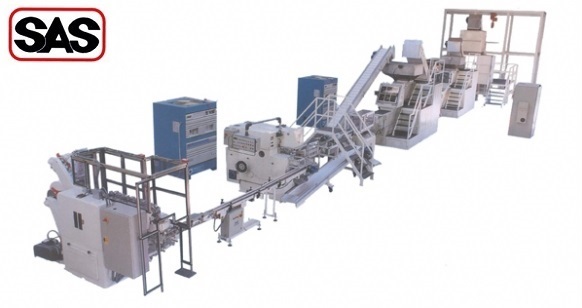 2000 Soap Finishing Machines in the world
More than 550 machines in the world